Submitted by

Kevin Warfel

on Thu, 2017-03-23 14:50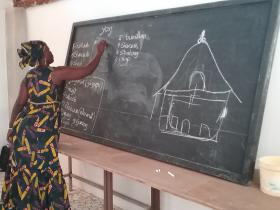 (March 2017) In the town of Thionck-Essyl in the south of Senegal, speakers of the Gusilay (Gusiilaay) language are celebrating the success of a recent Rapid Word Collection (RWC) workshop, where they collected a total of 12,485 words in 11 days. The workshop was publicized on the local radio station, including interviews of participants who voiced the importance of their collective work, resulting in a room full of Gusilay speakers at the closing ceremony, ready to join the celebration.
Gusilay speaker Ibrahima Diatta and SIL's David Wilkinson began plans in early 2016 to create the first Gusilay-French dictionary for the 20,000+ Gusilay speakers. This workshop was a step toward fulfilling the aspirations of the Gusilay—to develop and gain recognition for their language.
Held 7–25 February 2017, the workshop began with three days of training led by SIL consultant Kevin Warfel. A core group of enthusiastic Gusilay participants worked hard each day, including several members of the Gusilay literacy organization, a linguistics student, and a member of the community who evolved into the chief glosser (translator), even though no one had envisioned him in that role prior to the training period. He proved to be one of the most dependable participants, even setting the precedent for taking folders full of language data home to work on after the normal workshop hours.
As a result of the drive and dedication of the core group, the original goal of recording 10,000 words was surpassed by day nine of the workshop! By the end of the workshop, most of the recorded words had been translated and typed into the FLEx database, with a resulting mock-up dictionary printed in time for the closing ceremony.
Read the full article at sil.org.